Backstreet Boys leave record label
Friday, May 28
2010, 17:30 BSTBy Robert
Copsey, Music Reporter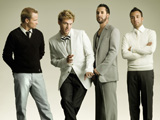 The Backstreet Boys have parted ways with their record label after 16 years.

The boyband have released seven albums through Jive Records since 1994 and
sold over 130 million LPs worldwide, making them one of the biggest
selling groups of all time.

In a statement posted on their
official website, band member Brian Littrell wrote: "So the news is out!
The Backstreet Boys are no longer signed to long-time record label Jive
Records. The amicable split is very exciting for the group.

"This is the best thing, at the best time that could have ever happened for
us. We are confident in the future of our band, and are looking forward
to the new things to come. 2011 is going to be a great year for us."

The group have dismissed rumours that they were dropped from the label due
to recent poor album sales.